*** AFFILIATE PROGRAM CURRENTLY CLOSED ***
Join the DupeFree Pro affiliate program and get 50% of every sale as well as 30% monthly residual income!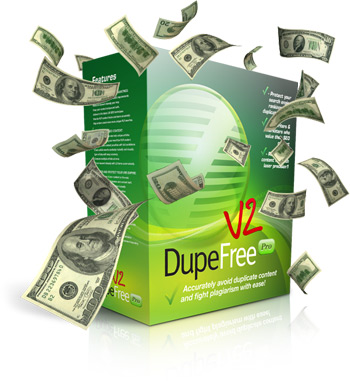 We believe the DupeFree Pro affiliate program offers a very unique earning potential. Not only can you earn 50% for every sale of any the DupeFree Pro modules, but your affiliate cookies last 10 years which means if your referrals come back and buy another add-on module, or any future yet-to-be-released add-on module, within 10 years, you will still get 50% of all those sales as well!
On top of this, you have the ability to earn a solid long lasting monthly residual income of 30% of any sales of the "Unlimited Subscription" option for DupeFree Pro!
For these reasons, and many others, we really think the DupeFree Pro affiliate program offers a fantastic earning potential. Check out these reasons why its worth your time promoting DupeFree Pro:
DupeFree Pro is a very unique software tool, standing out from the crowd by being different and truly useful. DupeFree Pro is not based on a "fad" SEO concept, and so it's here to stay for the long haul. Plus DupeFree Pro compliments, rather than competes, with many existing IM products such as article spinners and article syndication services, giving you an easy "extra sell" to the same audience.
Users get far more value than the amount they pay. As a result our conversions are extremely high and refunds are very low.
Your affiliate cookies last 10 YEARS so you can keep earning commissions from your referrals for a long time, especially as we release new add-on modules and your referrals buy again further down the road.
You earn a huge 50% on every DupeFree Pro module sale. This means you can currently earn up to just under $70 for every referral, and as new add-on modules are released this will rise fast!
With DupeFree Pro you can also earn a nice monthly residual income if you sell an "Unlimited Subscription". Your commission for an Unlimited Subscription sale is 30% for every month your referral remains a subscriber, and with the great value they receive subscribers stay subscribed for a long time.
Online plagiarism and duplicate content is a relevant issue for so many target markets, giving you a lot of options for promotions. From teachers checking pupils work for plagiarism, to writers rewriting articles for clients, DupeFree Pro has a very wide appeal.
If you're making a good amount of sales or have a large responsive list, get in contact with us and we can negotiate your commission percentages.
We operate a very low payout threshold of just $50 and payout on the 1st day of every month, so you don't have to wait long to receive your commissions (payout's are made via PayPal).
Highly reliable, long-term industry tested, secure system - Our customer/affiliate system uses a gold-level version of Delavo on top of an SSL encrypted certificate so you can be sure you are in good hands.
Know exactly where your sales are coming from - Inside the TekkTonix customer/affiliate portal you can setup custom tracking campaigns for every affiliate link you create.
Confidently offer special offers or bonuses to your referred customers because you can easily check every bonus request by searching the details of sales you have personally referred inside the TekkTonix customer/affiliate portal.
Support - have a question or need specific creative for a promotion you plan to run? No problem, we are here to help and would love to hear from you. Simply get in touch with us via the helpdesk and let us know what we can do for you. We would love to hear how you are promoting or plan to promote DupeFree Pro :-)
How To Join The Affiliate Program & Start Promoting DupeFree Pro:
All you need is a free TekkTonix customer/affiliate account. If you aren't already a TekkTonix customer, simply open a free TekkTonix account here - it only takes seconds. (If you are an existing TekkTonix customer your TekkTonix account is the same as an affiliate account, so just use your existing account).
Once you have your TekkTonix account username and password (which will be emailed to you upon registration), login to the TekkTonix customer/affiliate portal at https://tekktonix.com/hq to get your Affiliate ID number.
Your TekkTonix account number IS your affiliate ID number, and as shown in the picture to the right, your ID number is displayed at the top right corner of the TekkTonix customer/affiliate portal area. (In the example picture, the affiliate ID number is: 483)
Once you have your affiliate ID number you can use it below to create your affiliate links to DupeFree Pro.
Now simply tell others about DupeFree Pro using your affiliate links generated below. You can show banners, text-links, or use your affiliate link however you wish (no spamming though of course). Then, every time someone buys through your affiliate link you will earn a nice commission - simple! :-)
Please note: One thing we must mention is that we don't allow affiliates to buy through their own affiliate link; these commissions will be reversed.
Get Your Affiliate Links:
Below you will find an entry box where you can enter your affiliate ID and click "Update affiliate links below" to make all the html codes and affiliate links on this page update with your unique affiliate link. This makes it super quick and easy for you start promoting DupeFree Pro. Simply enter your affiliate ID number, click the button and then start copy-&-pasting the html code for the promotional material you'd like to use.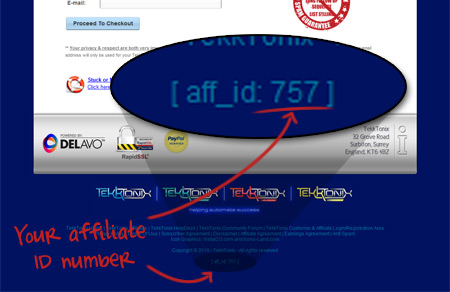 If you would like to check that your affiliate links are working, simply grab one of your affiliate links below, enter or copy-paste it into your browser address bar and hit enter. As long as cookies are enabled in your browser (they almost always are), your affiliate cookie will get set correctly and when you visit the first check out page for DupeFree Pro, scroll to the bottom of the page, and you should see the text "aff_id:XXX" where the "XXX" part should be showing your affiliate ID. This is demonstrated in the screen shot image on the right. If you have trouble checking this, or are unsure of anything, just ask us at the helpdesk and we'll be more than happy to help.

If you would like to create your own promotional material here's a zip file containing all the banner images below and some DupeFree Pro logo's and box images you can use: download
If there is something you would like specifically, or you'd like one of the banners below tweaked or changed slightly, let us know and we'll get it made for you.

If you would like to create your own promotional material and images, here's a zip file containing all the banner images above plus some extra DupeFree Pro logo's and box images you can use: download link
Thanks for choosing to promote DupeFree Pro! If you have any questions, comments or ideas, please do not hesitate to reach us at the helpdesk - we look forward to hearing from you! :-)