Show Your Visitors You Care About Your Content By Displaying "Content Verified Unique by DupeFree Pro" Badges & Seals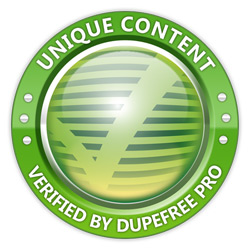 Click here to get your badges and seals.
We've had some "Unique Content Badges" made for you to display on your websites.
These are a great way to show that you actively check your content to ensure it's duplicate content free and that it's not being plagiarized online.
Display these badges and seals on any of your websites to help deter unscrupulous content-thief's from copying your content.

Or if you are a freelance writer, you can display these badges on your client facing website to show that you verify your articles and rewrites are unique with DupeFree Pro. A quick and easy way get some "added value" for your writing services

Another great reason to show these badges and seals on your websites is that they can link to DupeFree Pro using your affiliate link. This means you will earn a commission for any sales originating from traffic that clicked on the badges displayed on your websites!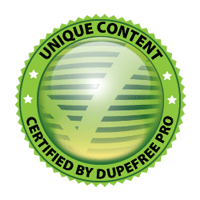 Simply head on over to the "Unique Content Badges "section on the affiliate program page to grab the code to get a DupeFree Pro badge or seal up on your website in minutes.
If you need a specific size or would like the text's to read slightly differently, let us know at the helpdesk and we'd be glad to put something together for you.
Cheers,
Mike